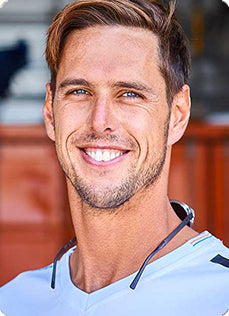 Olympic 2X Gold Medalist in Windsurfing
Dorian passion for wholefoods products is incredible, Very rarely does a professional athlete on this calibre approach a company asking to work with them.
After seeing another athlete Darren Berrecloth mix up an RP3 shake, he grabbed the bag was in shock and said: "Dude where did you get this from?" He immediately called Avena Originals and said how do I join the team! I want to train for Rio on the Avena Originals amazing products!
"There was a point during the RIO games I didn't think I could go on, my muscles were cramping, and I was weak, I took an RP3, and PIN Magnesium shot and I was good to go, no more cramps, I finished my race and brought home the GOLD medal!"
Dorian has said he doesn't think he would have had the success he did at RIO if it was not for Avena Originals products.
Accomplishments
World Champion in Windsurfing RX 2018
Gold Medal Winner in Windsurfing RX in Rio, Brazil Summer Games 2016
Gold Medal Winner in Windsurfing RX in London, England Summer Games
Van Rijsselberghe dominated the competition completely by finishing first among the 38 competitors in 7 out of 10 races, certain to win the gold medal irrespective of his results in the 10th race and in the medal race.
First National Title Won his at the age of 13